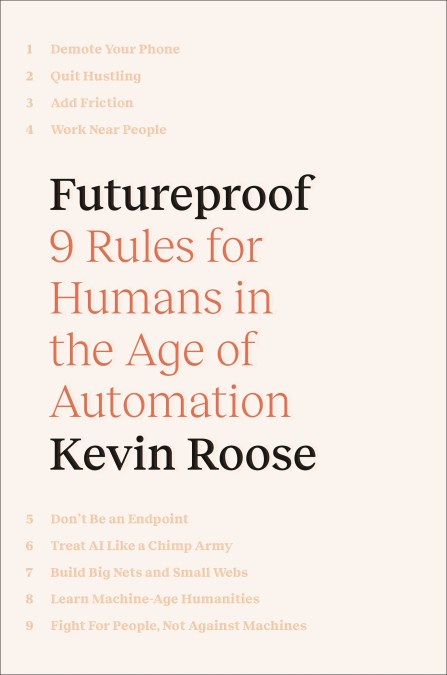 Futureproof
'Kevin Roose provides a clear, compelling strategy for surviving the next wave of technology with our jobs – and souls – intact…Futureproof is the survival guide you need' Charles Duhigg, The Power of Habit


'While we need to rewrite the rules of the twenty-first-century economy, Kevin's book is a great look at how people can do this on a personal level to always put humanity first' Andrew Yang

In this timely, counterintuitive, and highly practical guide to the age of A.I. and automation, a New York Times technology columnist argues that the key to success is making yourself more human, not less.

The machines are here. After decades of sci-fi doomsaying and marketing hype, advanced A.I. and automation technologies have leapt out of research labs and Silicon Valley engineering departments and into the center of our lives. Robots once primarily threatened blue-collar manufacturing jobs, but today's machines are being trained to do the work of lawyers, doctors, investment bankers, and other white-collar jobs previously considered safe from automation's reach. The world's biggest corporations are racing to automate jobs, and some experts predict that A.I could put millions of people out of work. Meanwhile, runaway algorithms have already changed the news we see, the politicians we elect, and the ways we interact with each other.

But all is not lost. With a little effort, we can become futureproof. In Futureproof: 9 Rules for Machine-Age Humans, New York Times technology columnist Kevin Roose lays out an optimistic vision of how people can thrive in the machine age by rethinking their relationship with technology, and making themselves irreplaceably human.

In nine pragmatic, accessible lessons, Roose draws on interviews with leading technologists, trips to the A.I. frontier, and centuries' worth of history to prepare readers to live, work, and thrive in the coming age of intelligent machines. He shares the secrets of people and organizations that have successfully survived technological change, including a 19th-century rope-maker and a Japanese auto worker, and explains how people, organizations, and communities can apply their lessons to safeguard their own futures. The lessons include:

– Do work that is surprising, social, and scarce (the types of work machines can't do)
– Break your phone addiction with the help of a rubber band
– Work in an office
– Treat A.I. like the office gorilla
– Resist "hustle porn" and efficiency culture and do less, slower

Roose's examination of the future rejects the conventional wisdom that in order to compete with machines, we have to become more like them — hyper-efficient, data-driven, code-writing workhorses. Instead, he says, we should let machines be machines, and focus on doing the kinds of creative, inspiring, and meaningful work only humans can do.

Roose offers an upbeat, practical guide for dealing with "a world that is increasingly arranged by and for machines"… Helpful advice to quell workers' anxiety. – Kirkus Reviews
Read More
Reviews
If Kevin Roose's finely crafted Young Money does not scare you straight about the life of a young financial analyst on Wall Street, it can't be done. Roose's frolic through Wall Street's playpen is a must-read.
Despite all the press about Wall Street, the stories that don't usually get told are those of the recent college graduates who clamour for the chance to work 100 hour plus weeks at the big banks. Kevin Roose's new book, which follows a handful of analysts through the trials and tribulations of their early years on the Street, is a thoughtful exploration of their motivations and their experiences - and it's a great read.
A cautionary true-life tale, Young Money should be required reading for every college student who is contemplating a job on Wall Street. As for the rest of us, who remember Wall Street before 2008, Kevin Roose has provided a great window into how that world has changed-and how it hasn't.
Highly entertaining and impressive ...Roose's captivating read is sure to appeal to readers young and old who are interested in the zeitgeist of Wall Street since the crash
[Young Money] offers a compelling glimpse of Wall Street in the post-2008 recession era...thought provoking, excellent book
The young people who have flocked to Wall Street are often badly used, caught up in power struggles among middle management and little appreciated ... [Young Money] captures the daily indignities to which the junior capitalists are subjected