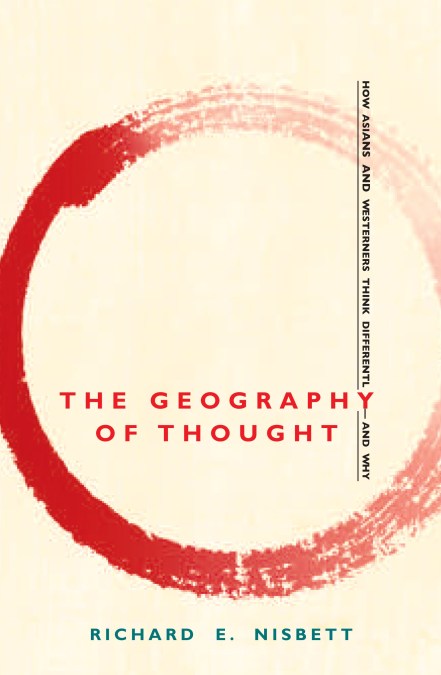 The Geography of Thought
When Richard Nisbett showed an animated underwater scene to his American students, they zeroed in on a big fish swimming among smaller fish. Japanese subjects, on the other hand, made observations about the background environment…and the different "seeings" are a clue to profound underlying cognitive differences between Westerners and East Asians. As Professor Nisbett shows in The Geography of Thought people actually think – and even see – the world differently, because of differing ecologies, social structures, philosophies, and educational systems that date back to ancient Greece and China, and that have survived into the modern world. As a result, East Asian thought is "holistic" – drawn to the perceptual field as a whole, and to relations among objects and events within that field. By comparison to Western modes of reasoning, East Asian thought relies far less on categories, or on formal logic; it is fundamentally dialectic, seeking a "middle way" between opposing thoughts. By contrast, Westerners focus on salient objects or people, use attributes to assign them to categories, and apply rules of formal logic to understand their behaviour.
Read More
Reviews
[A] landmark book. The Geography of Thought shows that understanding of how individuals in eastern cultures think is not just nice, but necessary, if we wish to solve the problems we confront in the world today. We ignore the lessons of this book at our peril.
Nisbett's results indicate fundamental differences in the ways Westerners and East Asians view the word.
The man whose ideas led to Malcolm Gladwell's Blink and to Nudge
The most influential thinker, in my life, has been the psychologist Richard Nisbett. He basically gave me my view of the world.
One of the world's leading thinkers
A psychology professor dares to compare how Asians and Americans think. The upshot of Nisbett's research is that differences are real. They might not always be for the better, but they matter.
The fascinating cultural reason why Westerners and East Asians have polar opposite understandings of truth
Geography of Thought compares people from East Asia (Korea, China and Japan) with Westerners (from Europe, the British commonwealth and North America). Westerners typically see categories where Asians typically see relationships. Such differences in thinking can trip up business and political relationships
Westerners and Easterners see the world differently. Nisbett hopes that his work will change the way the cultures view each other.