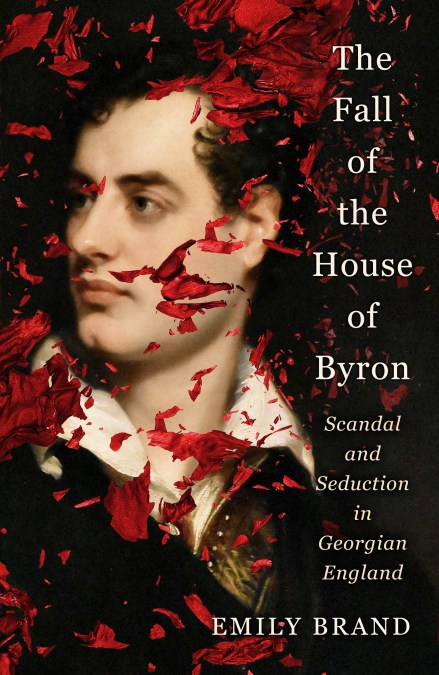 The Fall of the House of Byron
'
Brand's meticulous research brings to life the colourful characters of the Georgian era's most notorious families with all the verve and skill of the era's finest novelists … A powdered and pomaded, sordid and silk-swathed adventure' Hallie Rubenhold
'Stranger than fiction, as dark as any gothic drama, the story of the Byron family has cried out for a modern telling. Brand's utterly gripping account of the Byrons' gilded decline into tragedy and scandal is a triumph of detective work and literary skill' Amanda Foreman
'A hauntingly beautiful portrait of the Byron dynasty' Rebecca Rideal

'Combining new research with a pacy narrative, Emily Brand introduces the glamorous and flawed Byron dynasty–William, the 'Wicked Lord', pleasure-seeking Isabella, and 'Mad Jack'–a family inheritance to match the wildest imaginings of their most notorious descendant. A riveting read! Professor Kathryn Sutherland

In the early eighteenth century, Newstead Abbey was among the most admired aristocratic homes in England. It was the abode of William, 4th Baron Byron – a popular amateur composer and artist – and his teenage wife Frances. But by the end of the century, the building had become a crumbling and ill-cared-for ruin. Surrounded by wreckage of his inheritance, the 4th Baron's dissipated son and heir William, 5th Baron Byron – known to history as the 'Wicked Lord' – lay on his deathbed alongside a handful of remaining servants and amidst a thriving population of crickets.

This was the home that a small, pudgy boy of ten from Aberdeen – who the world would later come to know as Lord Byron, the Romantic poet, soldier, and adventurer – would inherit in 1798. His family, he would come to learn, had in recent decades become known for almost unfathomable levels of scandal and impropriety, from elopement, murder, and kidnapping to adultery, coercion, and thrilling near-death experiences at sea. Just as it had shocked the society of Georgian London, the outlandish and scandalous story of the Byrons – and the myths that began to rise around it – would his influence his life and poetry for posterity.

The Fall of the House of Byron follows the fates of Lord Byron's ancestors over three generations in a drama that begins in rural Nottinghamshire and plays out in the gentlemen's clubs of Georgian London, amid tempests on far-flung seas, and in the glamour of pre-revolutionary France. A compelling story of a prominent and controversial characters, it is a sumptuous family portrait and an electrifying work of social history.
Read More
Reviews
A story of sex and scandal, but also of the fragility of life, the unyielding passion of the human heart, and the oppressive weight of the past. From the first to the last, the ghosts of the Byrons call out to us through Brand's evocative prose. Magnificent.
Revelatory and readable, Brand opens up the story of Byron's inheritance, a legacy that will be the making and unmaking of him. A fascinating, gripping work